Brazil's main wine region, Vale dos Vinhedos, may well be what you least expect from the country known for its tropical beaches, flamboyant carnival and vast Amazon jungle. The landscape of Serra Gaucha, one of the southernmost states in Brazil, consists of hillsides and forest. It is humid, like all of Brazil, but the cloudy and rainy days make you feel closer to somewhere in northern Europe than the postcard image of Brazil. With 2000mm of rain a year and undulating hillsides, it paints an altogether different landscape to that of Rio de Janeiro.

Many compare it to Italian wine regions like Tuscany, and these comparisons are not as far-fetched as you might first think. This is indeed a little Italy. The location may be far off, but the culture is not.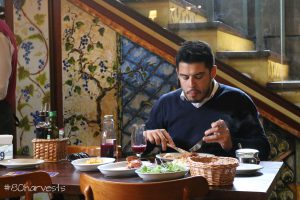 As you drive around Vale dos Vinhedos, you'll see small farms beyond the hedgerows, countryside houses in the style of Northern Italy, and signs for pasta and pizza restaurants. You might even hear some conversations in Talian – the old Venetian dialect that locals still speak. But most of all you'll see vineyards and wineries. This region has the most concentrated number of wine producers in one area of the whole of South America.
So how did this pocket-sized corner of Brazil become such a wine hot spot?
To understand Vale dos Vinhedos, you have to first understand a bit about the history of wine in Brazil. There were no native vineyards in South America pre-colonisation. Like the other South American wine countries, the introduction of vines came with the European settlers. In Brazil's case, it was the Portuguese in the 1500s.
The Portuguese initially focused on planting their vine cuttings near their port city of São Paulo and at the time (with the limited technology available), it just wasn't suitable for vine growing. It was too hot and wet. 
With a country so big, it is no surprise it took a little while to find the right places for wine production. The Jesuits got closer to finding the right spot, as did the settlers from the Azores who started to plant a bit further south in Rio Grande do Sul, with more success. However it was really in the late 1870s when an influx of Italian migrants came to Brazil, that wine production started to take root and the Vale dos Vinhedos was born.
As the Italians arrived into the port city of Porto Alegre, they were given parcels of land up in the hills of Serra Gaucha, which was a troublesome terrain with big rocks and steep hills. However the Italians were a hardy folk, and they settled there all the same. And these Italians settled in numbers; we aren't talking a few – but rather thousands.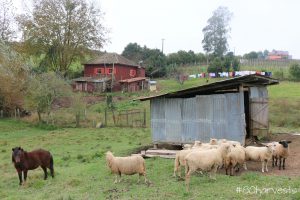 Each migrant family would try to recreate their Italian home comforts in the hills of Brazil: they had livestock to make their own hams and cheeses, they grew vegetables and fruit to make their own preserves and Italian dishes, and they planted vines to make their wine, just like they did at home.
By the 20th century, Serra Gaucha had become home to more Italian descendants than Brazilians, and each of them had their own vineyard. Wine was never originally intended to become an industry, but with over 15,000 producers in the area, it soon became one.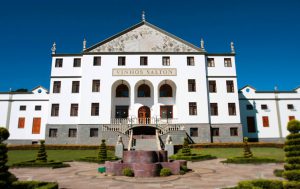 Since then Vale dos Vinhedos has become the mecca for wine in Brazil, with wineries both large and small. The big ones include wineries like Moet & Chandon's outpost, which makes enormous amounts of sparkling wine in the region, while the smaller-scale producers include boutique family wineries with less than a hectare of vines. What does remain small though are the vineyards, with thousands of families still owning vineyards. They either sell the fruit to bigger producers or are part of a co-operative. The co-operative Aurora, for example, has 11,000 owners!
The wines and people today may be Brazilian, but the roots and heritage are Italian. This blend is what makes Vale dos Vinhedos such a fascinating region to visit and one of the best wine tourism spots on the continent.
What to eat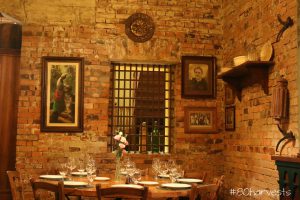 You can't miss out on Italian food while you are here; it is in their blood. Clay oven-baked pizzas and hearty pasta dishes are served throughout the region, and one dish that is a daily ritual for people from Serra Gaucha is 'Sopa de Capeletti', tiny cappelletti pasta shells stuffed with a meat mixture and served in a flavourful chicken broth.
This is just a starter though, which leaves space for you to try some more Brazilian delicacies too, such as the Feijoada: a rich bean stew with beef and pork that tastes delicious with the region's juicy red wines. 
Where to sleep
While Rio de Janeiro is the most visited place in Brazil, a town called Gramado is the second. Gramado is only 100km from Vale dos Vinhedos making this a popular stop en route and bringing a very large amount of local tourism to the area. For this reason, there is ample accommodation on offer, ranging from top-end luxury down to basic, but homely, wooden cabins.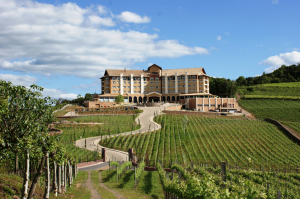 Hotel & Spa do Vinho $$$
The most renowned hotel in the valley, the upmarket Spa do Vinho is one of Brazil's best with a Vinothérapie Spa and a handsome outdoor pool looking out to the vineyards below. The silver service restaurant has amazing views over the valley.
In the middle of the valley, every window in this this resort complex looks out on vineyards. It offers a family-friendly option right in the heart of the valley. There is a cycling and running track in-between vines and play gardens for the kids, as well as a local family of peacocks strutting about.
Better known for their hydroponic strawberry farm, where the berries listen to rock and folk music all day, Rio do Vento also has a refurbished guesthouse dating back to 1871. The wooden three-floor house is actually two houses stacked together with assorted en-suite bedrooms for guests. Each morning at breakfast you get fresh strawberries and scones and jam from the farm.
What to do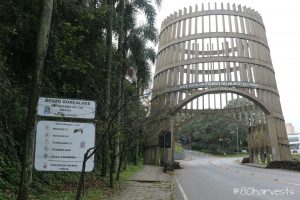 Walking around Bento Gonçalvez, the main city in the region, you'll see a wine theme running through the architecture, such as a barrel-shaped church and a barrel-shaped entrance to the city… It's clear you are in Brazil's wine capital. 
Running through the middle of the town is Via de Vinho, a pedestrian wine walkway which marks where a pipe used to run from Aurora winery into the town. Nowadays the pipe isn't accessible, but a red fountain at one end often causes confusion for tourists who drink the dirty, red-coloured water miraculously believing it is wine.
A museum in memory of all the immigrant settlers (Memorial do Imigrante) is another must for understanding the culture and history of the region.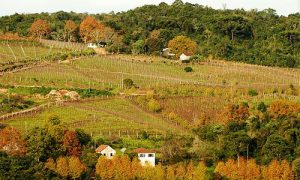 However in Vale dos Vinhedos, it is all about winery-hopping. There are dozens to choose from; so here's a selection:
One of the biggest premium wineries in Brazil, Miolo makes labels from many wine regions in Brazil. The handsome winery is open every day for tourists to drop in for a tour of the state-of-the-art winery and tasting of their large portfolio.
This boutique family winery offers an intimate visit where you can learn about the family philosophy in making minimum intervention wines with no oak ageing and using only native yeasts. Lidio Carraro is next door to Miolo.
The longest-running winery in Brazil, Salton has buckets of history – and of wine. This is one of the biggest producers in Brazil and in this Italian-style winery you'll be able to taste through every sort of wine (still and sparkling) under the Brazilian sun.
One of the top sparkling wine houses in Brazil, Cave Geisse is a must if you want to bathe in the best Brazilian bubbles. Owner and winemaker Mario Geisse is a legend in Brazilian sparkling wine, and this is his small family project, which only makes traditional-method sparklers.
Travel Details
Closest airport: Porto Alegre. 2 hr drive, 4 hr bus.
Budget: Shoestring $60/day. Big spender $450/day.
Nearby attractions: Florianoplis beaches & island (6 hrs); Gramado mountain town (2 hrs)
Just in case you were left with any doubts about your trip to Vale dos Vinhedos, here are two locals welcoming you to Brazil's wine region through song: