We've pulled together this Maule wine guide and Fast Facts feature so that you can get to grips with Chile's biggest wine region, Maule.  This guide includes: the essentials of terroir (the soil types, climate, average temperatures, rainfall, longitude and latitude, and altitude); the main grape varieties used for different wine styles; the viticultural methods, age of vineyards and vine training systems; the winemaking techniques, wine styles and tasting notes; and the production area in size and number of producers.
Where is it?
This is Chile's largest wine region, with some 54,000 hectares of vines. It is located in the southern-central part of Chile, around 300km south of the capital, Santiago. It is also one of Chile's oldest and most traditional wine areas.
Maule wine guide: Maule's sub-regions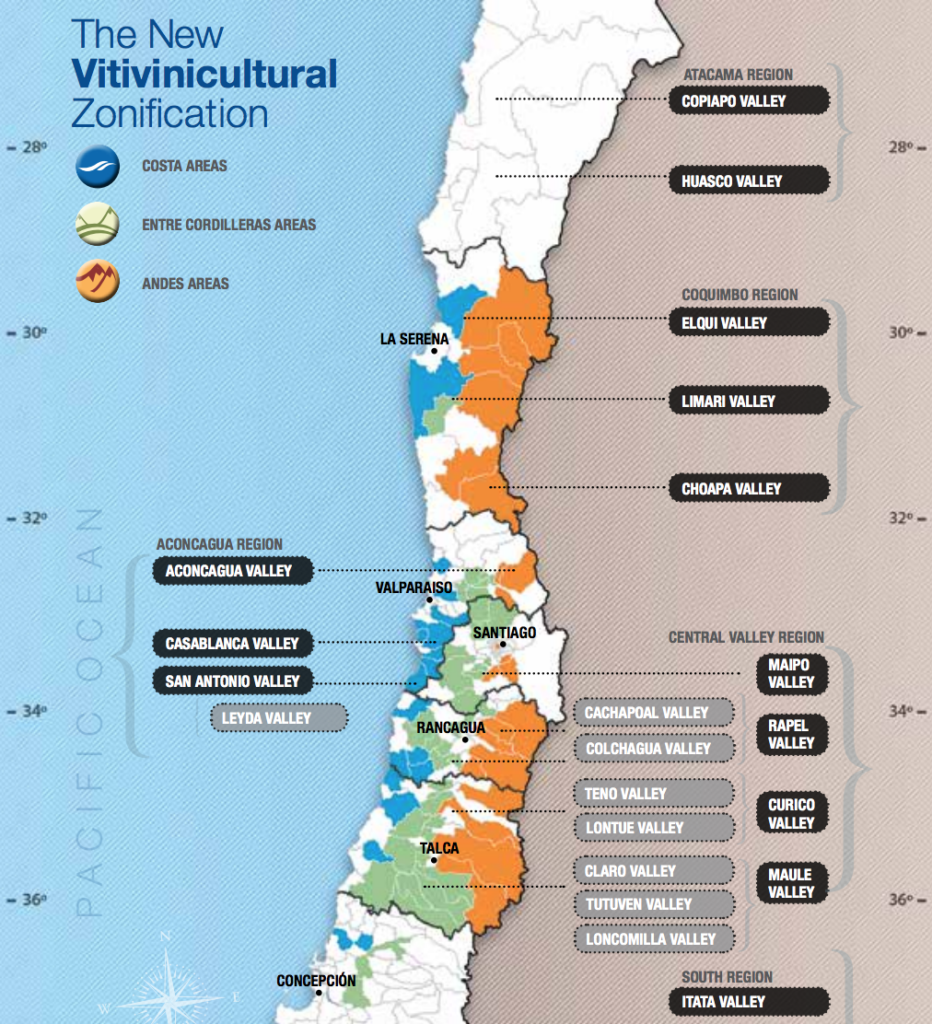 Chile is a long, thin country (just 40-50km wide in the Maule region), which stretches from the Andes mountain range in the east through the Coastal range to the Pacific Ocean in the west. Most of the wine regions, including Maule, therefore have a range of different altitudes, climate and soil conditions and so each region has been split into three different sub-regions and it is important to understand this when looking at the essentials of terroir.
Andes
If you see Maule Andes on a wine label, it means that the grapes have come from vineyards in the foothills of the Andes mountains.  This area includes places like San Clemente and Colbun. This area has traditionally benefitted from canals bringing water from the mountains and so irrigating vines has not been an issue.
Entrecordillera
This is the area between the Andes and Coastal mountain ranges. In Maule, this is an area of very dry, arid landscapes, as there is little water to be had. This area encompasses Talca, Pencahue, San Rafael in the Santa Clara valley. The municipalities of Cauquenes and San Javier are areas with many vineyards of old vines, particularly País and Carignan that have not been irrigated.
Costa
This is the area between the coastal mountain chain and the Pacific Ocean and encompasses some very dry areas, like Empedrado and Curepta.
Maule Secano

This is an area very specific to Maule which accounts for much of the Cordillera and some of the Costa area.  This area receives a good amount of rainfall in the winter but has few other water reserves to help plants get through the long, dry growing season. Maule Secano is a sparsely populated area of subsistence farmers, who have over the centuries eked out a living from the only types of farming that are viable in these tough conditions: olives, the few types of vines that can withstand serious drought conditions, sheep and goats. Over the decades, times became difficult for farmers in these areas, as the value of untrendy grape varieties plummeted.  Many vineyard holdings were simply abandoned and it is only in recent years, as some forward-looking producers realized the potential of the old vines in this area – particularly Carignan – that there has been a resurgence in the local economy.
During the 20th century, hard-pressed farmers and landowners were subsidized to plant forests of eucalyptus and pine for the timber and cellulose industries, a policy that has substantially changed the landscape in some areas. Forests now compete with other farming activities for the scarce water reserves and present a fire risk during the long, hot summer months, as was seen in 2017, when enormous wildfires ravaged much of Maule. Some vineyards were damaged or destroyed and many wine producers had problems of smoke taint in otherwise healthy grapes. The photo below shows some of the burned woodland a year later.
Maule wine guide: The Essentials of Terroir
Climate & Landscape
Temperatures: per sub region
Rainfall
Soils: per sub region
Longitude
Latitude
Altitude range
Viticulture Facts
Vineyard Management
Grape Varieties
Production Area
Annual Production
Traditional Food Pairings
…
This content is exclusive for Members. Take a look at the introductory packages below to become a Member of 80 Harvests and get unrestricted access to all our content.
Thank you for supporting the journey and being part of the 80 Harvests community!

More Maule wine guide features:
VIGNO: Coming of Age
Photogallery of Maule