You may be familiar with Muscadet, the emblematic wine of Pays Nantais in the Loire, but did you know that this is an area currently undergoing change? We've pulled together this fast facts guide to Pays Nantais to give you the lowdown on this region and its wines, including recent developments. Our Pays Nantais wine guide includes: the essentials of terroir (the soil types, climate, average temperatures, rainfall, longitude and latitude, and altitude); the main grape varieties used for different wine varieties; the viticultural methods, winemaking techniques, wine styles and tasting notes; and the production area in size and number of producers.
Where is it?
This is the westernmost Loire sub-region, stretching from just west of Anjou to the Atlantic Ocean.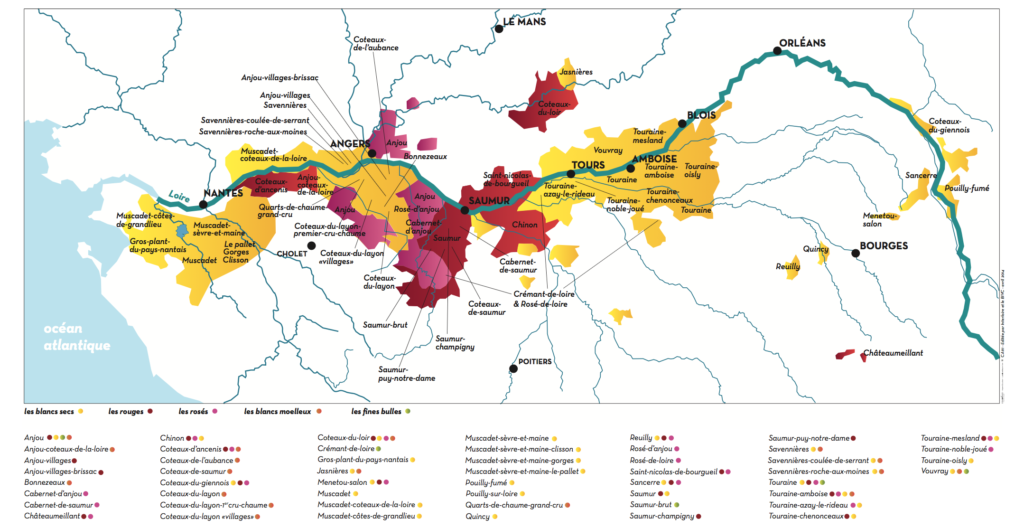 The Essentials of Terroir
Climate & Landscape
Its proximity to the Atlantic Ocean makes this a temperate area with a maritime influence with mild autumns and winters and hot, often humid summers. There are some 2,000 hours of sun per year.
Temperatures
July is the hottest month in Nantes with an average temperature of 20°C and the coldest is January at 6°C.
Rainfall
Nantes has an average of 788mm of rain per year. The wettest month is January with an average of 100mm of rain.
Soils
The soils are rocky, based on igneous and metamorphic rocks of the Amorican Structure, which contain gneiss, micaschist, greenstone and granite.
Longitude
1.55˚W
Latitude
47.2˚ N
Viticulture Facts & Vineyard Management
Harvesting is early, beginning in mid-September because Melon de Borgogne ripens early.
Maximum yields
55hl/ha for Muscadet de Sévre et Main
45hl/ha for the new Crus communeaux
70hl/ha for Gros Plant du Pays Nantais
Vine Training systems
Mainly Guyot
Pests and Diseases
Melon de Borgogne is subject to downy and powdery mildew and grey rot.
Grape Varieties
…
Want to learn about:
Grape Varieties of Pays Nantais
Winemaking styles of Pays Nantais
Wines of Pays Nantais
Pays Nantais appellations and sub-regions
Production area & statistics from Pays Nantais
and more interesting facts on Pays Nantais?
This content is exclusive for Members. Take a look at the introductory packages below to become a Member of 80 Harvests and get unrestricted access to all our content.
Thank you for supporting the journey and being part of the 80 Harvests community!

Sources of information:
Val de Loire official tourism site – source of the statistics used in this post and the photo above
Clarke, O. & Rand, M. Grapes and Wines. 2015 edition. London: Pavilion.
Robinson, J., 2015. The Oxford Companion to Wine. 4th Ed. Oxford: Oxford University Press.