Serra Gaucha is the main wine production area in Brazil and has over 15,000 producers, many of whom are very small, with less than 2 hectares. It became a wine region because of the Italian immigrants who settled there over 100 years ago, planting their own vines to make wine at home. However today the region has blossomed as Brazil's wine hot spot, with enterprises both large and small. Here's an 80 Harvests guide to Brazilian wineries and the producers in the region that you need to know (all of whom are open for visits and export wines):
Vale dos Vinhedos
In the heart of wine country in Serra Gaucha, Vale dos Vinhedos is perfect for winery-hopping with one of the densest concentrations of wineries in the Americas. You'll find top accommodation in the area and restaurants aplenty, but it is also the most renowned terroir for Merlot and Cabernet Sauvignon – Brazil's most prized wine varieties.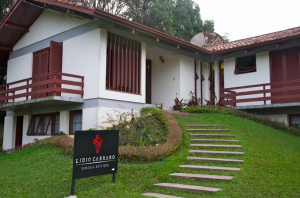 The philosophy of this boutique family winery is 'minimum intervention' and as such, their main focus is on the vineyards, reserving the winery just for simple winemaking in tanks using native yeasts and zero oak ageing. The head winemaker (who is married to one of the Carraro family), Monica Rossetti, also makes wines in Italy each year and some Italian varieties from the family's heritage have crept into the portfolio, including an attractive Nebbiolo. There is also a host of varieties coming from their vineyard in Encruzilhada do Sul. However the most-prized wines from this boutique winery are their Bordeaux varieties from the Vale dos Vinhedos vineyard.
**Watch our video interview with Patricia Carraro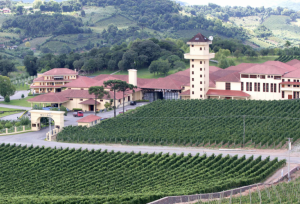 One of the most important and biggest premium wineries in Brazil, Miolo has a large portfolio that expands far beyond their Vale dos Vinhedos vineyards and handsome winery. They have a couple of wineries dotted around and vineyards in all of Brazil's emerging wine regions, including several in Serra Gaucha, in Campanha in the far west of Brazil, and in Vale do São Francisco in the tropical north. There are several wines worth noting. However a few favourites are their entry-level Coconova sparkling from Vale São Francisco, their top end sparkling Millesime from Vale dos Vinhedos, their Portuguese varieties in Campanha, and their Merlot-Cabernet Sauvignon from Vale dos Vinhedos.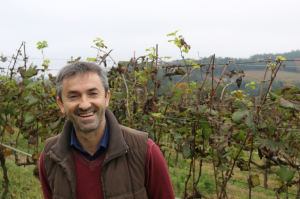 At the top of the hill in Vale dos Vinhedos, Pizzato is a family winery under the hand of energetic winemaker Flavio Pizzato. A tour of the small winery is quick, giving you more time to enjoy the view over the vineyards and the whole portfolio is available to try in the tasting room. Pizzato has two lines: the younger, fresher Fausto line with mainly varietal wines and sparkling wine coming from their Fausto vineyard in a different area of Serra Gaucha and their top end Pizzato line which comes from the Vale dos Vinhedos vineyards that you can see through the window. Some highlights are the complex Pizzato Legno Chardonnay, their DNA Merlot and the Vertigo sparkling wine all from Vale dos Vinhedos, while highlights from Fausto line include their bright Chardonnay and Verve blend of Merlot and Tannat.
**Get a 360-degree tour of Pizzato's vineyards in this video! Remember to click & drag to see 360!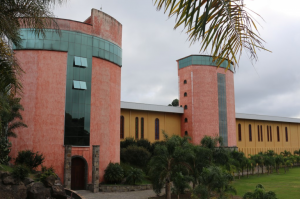 Casa Valduga is an impressive family winery that has grown into a wine tourism hub in the heart of the valley. They were the first to open to tourism in the 90s and now you can visit not only the winery but also their own boutique hotel and B&B, their Italian restaurant, and their juice and jelly shop. The family are visionary and it was son Joçao who changed the fortunes of the family vineyard when he replanted all the old vines and adopted the VSP form of training the vines along the wires in order to focus on quality. Since then, they have launched several successful lines of both sparkling and fine wine, all of which you can taste in their winery and tasting room after a tour through the long, silent underground cellar and back via the vineyards on a tractor. Highlights in the portfolio include all of their sparkling wines (most especially the limited edition Maria Valduga), their fresh Raizes Sauvignon Blanc and Cabernet Franc from Campagna, and their Identidade Corte (Arinarnoa, Marselan and Merlot) from Encruzilhada do Sul.
Pinto Bandeiras
Just on the other side of Bento Goncalvez, Pinto Bandeiras is known as the top area for sparkling wine. Here are two best producers of Brazilian bubbles to try: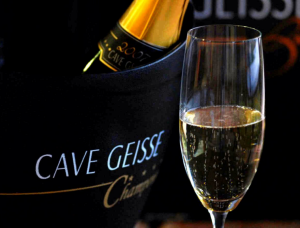 Chilean winemaker Mario Geisse was brought to Brazil by Chandon (of Moet & Chandon) to help develop sparkling wine in Brazil in the 80s. While he was hunting for great grapes and vineyard sites, he discovered a potential for sparkling wine that persuaded him to stay long-term and start his own family project on the side. Cave Geisse started as more of a hobby, but has since developed into one of the most serious sparkling wine houses in the country. 100% focused on wines coming from their own vineyards and always made in the traditional bottle-fermented method, the wines are consistent and reveal the ageing potential of Brazilian bubbly. Cave Amadeus is their 'entry-level' sparkling wine (although it has 12 months on the lees) and it works up to their delicious Terroir line with 42 months on the lees. Both the Blanc de Blanc and the Blanc de Noir versions (they only produce Chardonnay and Pinot Noir) are a treat.
** Mario Geisse explains why Brazil has a great sparkling wine potential in this video interview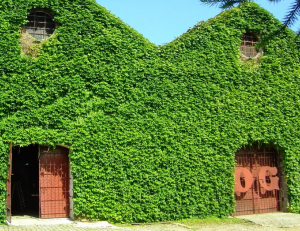 As one of the few wineries in Brazil to work with biodynamics in the vineyard, Don Giovanni stands out for their viticulture, which is easy to appreciate on a walk through their lively vineyard. However this family winery is also notable for making top notch wines in the region. Their sparking wines start with fruit-forward bubbles and work up to the deliciously complex Ouro with 36 months on the lees. They also make a handful of different wines in their Pinto Bandeiras vineyards, including a juicy Cabernet Franc. One final addition to the portfolio is their passion-project brandy which is a selection from barrels, all over 12 years old, and is worth seeking out to try.
Nearby
Serra Gaucha is filled with different micro-regions, and most of them are within easy driving distance from one another. Here are some other recommendations of Brazil wineries from neighbouring regions within Serra Gaucha:
If you are staying in Bento Goncalvez, Aurora couldn't be any closer – it is within the city itself. Aurora was in fact established long before Bento grew to its present size. This winery is one of the largest in Brazil and also one of the most historical and culturally important. It is a co-operative owned by over 11,000 local wine producers in the region. Aurora is an important exporter of wine in Brazil and has significant contracts with high-end supermarkets, providing their in-store Brazilian wines. Their portfolio features many wines under their own brand – the majority of which are regional blends from different producers within the cooperative. Some single-vineyard wines come from their company-owned vineyard in Pinto Bandeiras, where they make a good Chardonnay, bright sparkling wine and a juicy Pinot Noir. Other recommended wines worth trying are their Reserva Merlot and Millesime Cabernet Sauvignon, which can only be produced in exceptional vintages.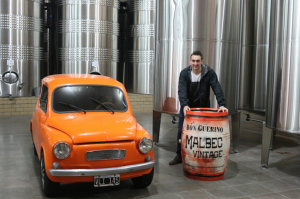 Some 45 minutes outside of Bento Goncalvez is Alto Feliz, a less explored wine region. The Motter family have, however, been settled here for more than five generations, and this newest generation are playing the leading role in creating the family winery and making Alto Feliz a popular stop-off visit for tourists travelling between Porto Alegre and Bento Goncalvez. The middle brother of the family, 24-year-old Bruno, is in charge of the winemaking. He learned his trade in Mendoza, Argentina, so it is no great surprise that one of his favourite varieties to work with is Malbec. His Malbec, and most of his other wines (including varieties such as Sauvignon Blanc, Teroldego, Merlot and Cabernet Sauvignon) are fruit-driven and easy to drink, which is ideal for the Brazilian cuisine and climate.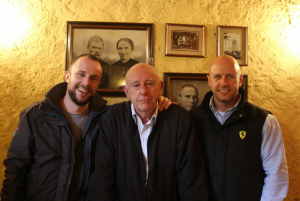 The Perini family are a fourth generation winemaking family and, like most winemaking families in Serra Gaucha, their roots go back to Italy. Based in Vale Trentino, the last two generations have seen a large increase in their wine-producing capacity since they took over an additional winery nearby. The family have 92 hectares in Farroupilha, another vineyard in Garibaldi, and buy the large majority of their grapes from small producers in Serra Gaucha. Highlights in the portfolio include their attractive Prosecco-style sparkling wine, their bright Chardonnay and their exotic wines line with Marselan and Barbera. Quatro is their top blend with Cabernet Sauvignon, Merlot, Tannat and a touch of Ancellotta.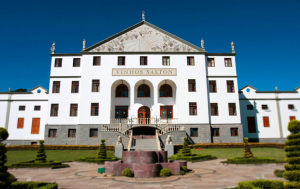 The oldest winery in Brazil, when you visit Salton you take a step into Brazilian wine history. The winery's history mirrors all the main changes in the industry: from small beginnings through to a wine boom between highs and lows of crisis and critical acclaim. Salton has stood the test of time, and is currently one of Brazil's most important wineries with significant production of fine wine and sparkling wine, as well as juice and everyday table wine. Some highlights in the sparkling range include a Prosecco-style Glera, a long charmat method Ouro, and a limited edition traditional method Pinot Noir, Luca Canei. In terms of still wines you'll find a few more unusual varieties such as their Marselan in addition to more classic varieties, the highlight of which is their blend of Cabernet Sauvignon, Malbec, Merlot and Cabernet Franc called Geracoes.
** Learn about the history of Brazilian wine with winemaker Gregorio Salton
Read more from Brazil: