Eduardo Soler is a fascinating frontman for Ver Sacrum – an art lover, a mountain climber and an appreciator of Pagan traditions. Fittingly, there's nothing usual about Ver Sacrum for Mendoza – from the varieties through to the ethos of the three winemaking friends. "When we decided to start making wine in Mendoza we said, 'Rule Number 1 – it has to be totally different to what Argentina's doing at the moment'." There's no shadow of a doubt in that. You can tell from the very labels (and poetic back labels), that innovation and romanticism are at the heart of Ver Sacrum wine. These are two wonderful attributes to winemaking – but it would be redundant if they didn't do it well. Fortunately for us, they do.
It doesn't take rocket science to grow and vinify Nebbiolo, but it does take a brain, understanding and intuition to make a beautiful Nebbiolo. And that's what this trio of wine friends bring to their Ver Sacrum wine project – the vines and market presence may still be young, but Ver Sacrum is already beguiling in its youth.
I've been a fan ever since I first tasted Ver Sacrum over two years ago in a small restaurant in downtown Mendoza. Thrilled to see a GSM in Mendoza (one of only two at the time!), my boyfriend and I practically drank the entire allotment at said restaurant. We also drank all their Garnacha, and all their Monastrell. The sommelier was a bit peeved, as we returned each week to drink up the entire stock of Ver Sacrum wine, and admittedly this isn't something I do often in Mendoza, but you don't find Garnacha and Monastrell very often in Argentina (a wine country cursed with zero-imports). And the wines were deliciously food-friendly and refreshing.
Today Ver Sacrum has expanded to a family of 8 wines. And each of them show brains, understanding and intuition. While we tasted the wines in order of weight, the chronological progression of Ver Sacrum is actually the opposite.
It is the earlier vintages, the Irreplicable line, from 2012, where you'll find the weightier wines – and more conventional style for Mendoza. As Eduardo explained, the 2012 harvest came before they had their own vines to play with and they were eager to get started so they made a series of blends with Garnacha, Malbec, Cabernet Franc and a fourth variety (which changes between Monastrell, Syrah and Nebbiolo). It is an interesting series of blends, and it was the starting point for Ver Sacrum – the genesis, or DNA as Eduardo put it.
While Malbec (and increasingly Cabernet Franc) is common in Mendoza, Garnacha (or Grenache) is not. The focus of Ver Sacrum started on Garnacha – fuelled by a night of delicious wine drinking between friends as Eduardo explains in the interview. They ordered Garnacha vines to come from Spain ready to plant in their own vineyard in the Uco Valley, but also went hunting for existing Garnacha plantations in Argentina – of which there is only a total of 24 hectares nationwide. Finding an old vineyard in Barrancas, they begin their single-variety Garnacha, single-variety Monastrell and GSM blend.
From the very first experimentations in 2012, Ver Sacrum wine has now taken on a very different style. The Bordeaux varieties have been completely dropped, carbonic maceration has been adopted, and the colour has moved from a dark shade of purple to a translucent shade of light ruby. This is still only the beginning of the Ver Sacrum wine story, as the new vines (planted with interesting genetic material sourced from Europe) begin to come of age. Planted in gobelet style and on poor alluvial soils, the first harvest of the field blend of Uco Valley GSM will be released soon. This, in combination with the GSM of Maipu, will effectively create a terroir-series for a recently unknown wine variety in Argentina. It's a leap to the moon for Argentine Garnacha.
The appealing portfolio of Ver Sacrum wine today also includes a heady and alluring Nebbiolo from the Uco Valley (which tastes nothing like Barolo but is utterly delicious in its own right) and a complex and exotic blend of Marsanne and Roussanne. Eduardo enthused that Teroldego and Grenache Blanc will be future releases, and they already have a couple barrels of Mencia in the wings (my breath is bated).
This is a small but significant project. Ver Sacrum is pushing the boat out in Argentina, and it has three sea-worthy captains at the helm pioneering a new future for Argentine wine varieties. It is an exciting, and delicious, adventure.
Ver Sacrum wine interview with Eduardo Soler: Live 'Wine Drinking with Wine Makers'
Join Amanda Barnes live wine tasting, and wine drinking, with different wine makers every #winewednesday at 6pm EST on Facebook/80harvests
Ver Sacrum wine tasting notes
Ver Sacrum Geisha de Jade
Roussanne 50% – Marsanne 50%, Los Chacayes, Uco Valley, Mendoza. 12% abv. USD $25 approx. 2016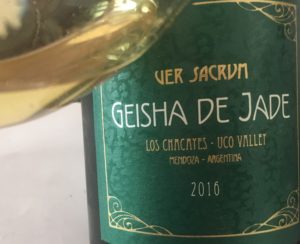 This co-fermentation of Marsanne and Roussanne has exotic floral aromas and warm notes of honeysuckle, hazelnut and bruised orchard fruits. There's complexity and some grip from several days skin-contact and a year on the lees. An attractive acidity keeps the richness of these white Rhone varieties in check and I would bet this will age well for a few years. It is a really exciting white blend for Argentina – Mendoza's answer to white Hermitage – and my only complaint is that there are too few bottles left!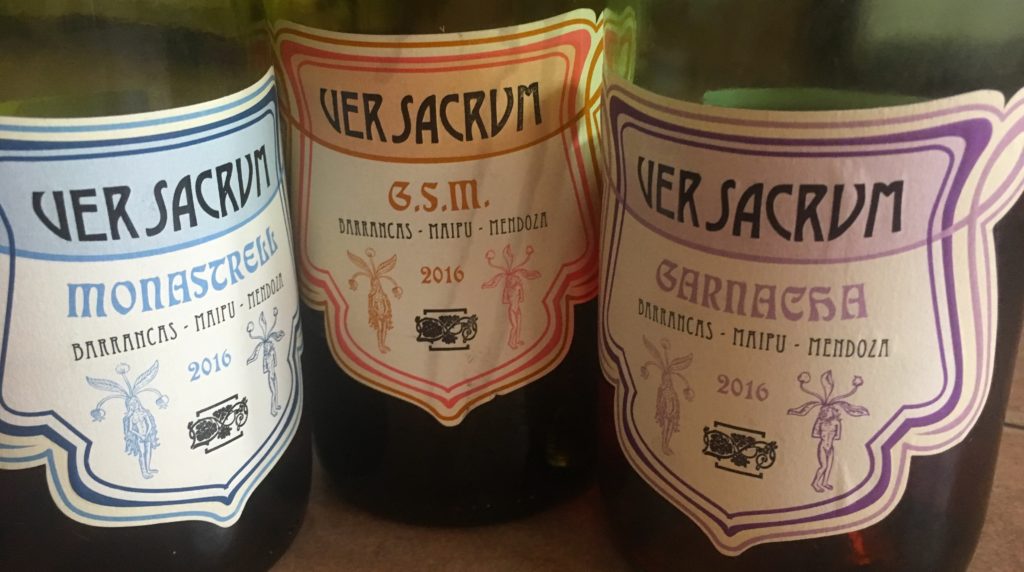 Ver Sacrum Garnacha 
100% Grenache. Barrancas, Maipu, Mendoza. 13.5% abv. USD $18 approx. 2016
Barrancas is one hot part of Mendoza, but this Grenache is fresh and floral, picked far before any Mendoza sunshine cooked the fruit. It shows flirty, bright red cherry and strawberry notes on the nose and citrus flavours in the mouth with a lingering, floral finish. The grapes are harvested early and start with 100% carbonic maceration, it is a low extraction wine and looks light enough in the glass to be considered rosé – although the mouth will show you different. Serve chilled.
Ver Sacrum Monastrell 
100% Monastrell. Barrancas, Maipu, Mendoza. 13.5% abv. USD $18 approx. 2016
With notes of wild forest herbs and white pepper, this Monastrell is a little bit earthier than the Grenache but it has lots of lovely, fresh and crunchy red fruit notes too. Although Monastrell is a long-cycle variety, this is picked slightly green and you get a wonderful combination of spice, herbs and fruit. It shares a similarly light colour to the Garnacha and also uses carbonic maceration but has a very different character. Also coming from the old vines in Barrancas, one of the first regions vines were planted in Mendoza, the vineyard has a rocky, alluvial soil. The vineyard has a field blend of Garnacha and Monastrell, which Eduardo calls a 'pain in the butt' to pick, but it is certainly worth the effort.
Ver Sacrum GSM 
50% Garnacha, 25% Monastrell and 25% Syrah. Barrancas (Garnacha and Monastrell) and Lunlunta (Syrah) Maipu, Mendoza. 14% abv. USD $22 approx. 2016
A darker colour – this wine is a blend of Garnacha and Monastrell (from the same vineyard) with a Syrah from nearby Lunlunta, grown on a parral of old vines. The nose is much meatier with an appealing iron note of blood and there's plenty of spice with notes of leather and pepper. Bright citrus, forest berry fruits and flowers lift the wine, and the finish is fresh and juicy. A great blend that is thirst-quenching and complex.
Ver Sacrum La Dama del Abrigo Rojo
100% Nebbiolo, Los Chacayes, Uco Valley, Mendoza. 13.2% abv. USD $110 approx (large format). 2016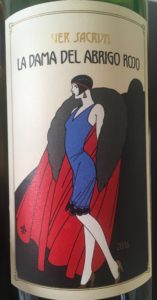 "The first time we tried this wine, all three of us said 'Geez- that is a sexy wine!" Eduardo says, and I couldn't agree more. There is a heady perfume to this wine filled with rosewater, wild strawberry and dried tea leaves, and the profile is equally as aromatic and juicy in the mouth with fresh red fruit notes (think cranberry) and just a hint of the chewy tannins typical of Nebbiolo. This isn't at all comparable to the Nebbiolos of the Piedmont which take years to tame, but this is an entirely different interpretation – a young, delightful and ultra-feminine high-altitude Nebbiolo from Mendoza. There is only one other Nebbiolo in Mendoza I know of (with a very different style altogether), however Eduardo is certain there used to be much more planted here – in particular for sparkling wine. The perfume, the spice and elegance makes me certainly hope that we soon see more. There are only 490 bottles of this Nebbiolo made in 2016, and I would probably drink a quarter of them if I could. Fortunately, it comes in a large format bottle (1.125 litres) which allows you to enjoy it for a little longer.
Los Irreplicables
This is a series of blends which Eduardo and his friends made because they were anxious to get going before their imported, exotic, varieties from Europe arrived. They are called 'unreplicable' because that's what they are – made one time, and one time only. "We didn't have enough exotic fruit to make single varieties, so we had to make blends!" Eduardo explains. They are all of a base of Garnacha, Malbec and Cabernet Franc plus one extra variety, made in a roll fermenter. All the fruit comes from the Uco Valley.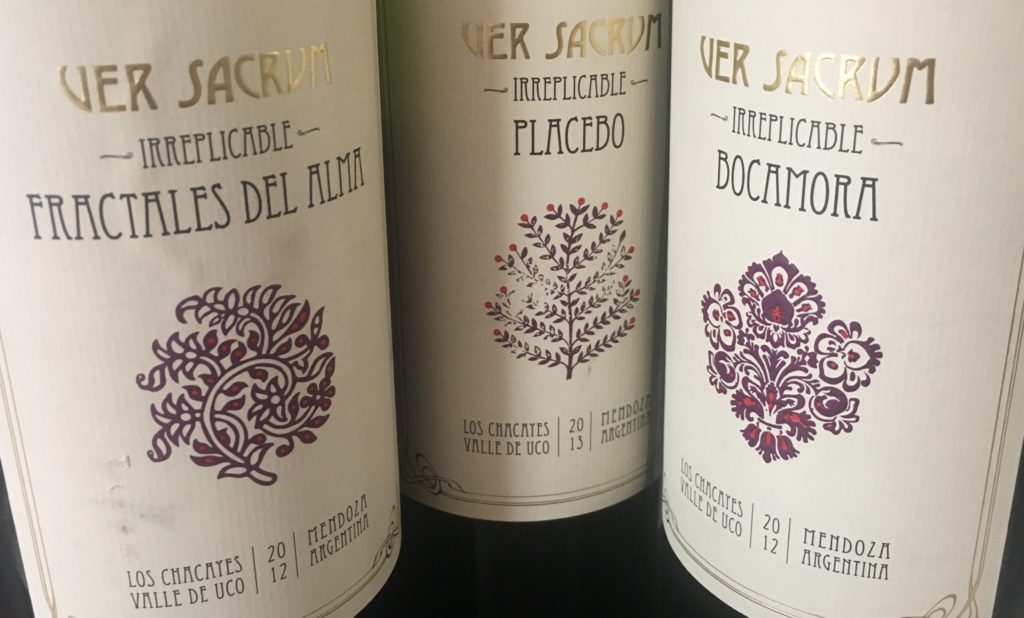 Ver Sacrum Irreplicable Fractales del Alma
Garnacha, Malbec, Cabernet Franc, Syrah. Los Chacayes, Uco Valley, Mendoza. 14% USD $60 approx. 2012
This is a much spicier blend with the meaty notes from Syrah, red and black fruit notes, as well as some violet hints. Although this is certainly a different style to the other Ver Sacrum wine line-up, as Eduardo points out – "you can still meditate with this wine." It is smooth and well-balanced with multiple layers of fruit and spice.
Ver Sacrum Irreplicable BocaMora
Garnacha, Malbec, Cabernet Franc, Nebbiolo. Los Chacayes, Uco Valley, Mendoza. 14% USD $60 approx.  2012
The Nebbiolo (although only 15% approx) in this blend brings a lovely floral perfume to the nose, which brings out the violet notes of the Malbec. The acidity is also higher in this wine and peppery tannins give it a fresher, spicier finish. An adventurous and interesting blend. Skip to minute '56 in the video if you want to understand the name for the wine.
Ver Sacrum Irreplicable Placebo 
Garnacha, Malbec, Cabernet Franc, Monastrell. Los Chacayes, Uco Valley, Mendoza. 14% USD $60 approx. 2013
This is where the DNA of Ver Sacrum started according to Eduardo, mainly because it has both Garnacha and Monastrell. The combination lifts the expression and results in a bright blend with plenty of red and black fruits in the nose and a fresh and floral finish, albeit with plenty of fruit concentration. A great dinner table companion.
Do you want to try Ver Sacrum wine?
Here's where can you buy Ver Sacrum wine:
Argentina: Mainly in Buenos Aires and also available in Mendoza. Sold by specialist wine shops and restaurants. In Mendoza it is available at Wine O'Clock, Espejo 533.
La Cayetana 1865: This exclusive restaurant at Eduardo's house is the best place to sample and buy Ver Sacrum wine, while feasting on a traditional Argentine asado. La Cayetana, Maipu.
USA: Imported by Brazos Wine Imports