A fourth-generation Altamira producer, Juanfa Suarez of Finca Suarez has a little-told story but one which resonates with many local families and spans the ferocious booms and busts of Argentina's wine history.
A family of Spanish immigrants, his great-grandfather settled in Altamira certain that this was a region suitable for viticulture and agriculture. He bought land and planted vines, ready to cultivate and make wine for the growing national wine industry in the 1900s. This was the time in which Argentina boasted a domestic wine consumption of over 90 litres per capita and there was a direct train line from La Consulta in the Uco Valley to Buenos Aires to quench the thirst for wine. The enormous appetite for wine at the time meant that vineyards and wine regions outside of the outskirts of Mendoza city could develop, even in the Uco Valley over 100km away.
His son, Juanfa's grandfather, benefitted from that boom at the beginning but soon saw a monumental bust as the train line was abandoned and consumption dried up due to a nationwide financial crisis. He pulled out the vines and planted apples instead.
By the time of Juanfa's father, wine production was returning to prominence and Altamira was being discovered as part of the promised land of the Uco Valley. He planted vines on the family estate once again, but this time with a focus on quality rather than quantity.
Juanfa's legacy, like many of the young generation of grape-growers, has been transforming the family story from solely grape-growers to wine-producers too. "It took us one hundred years to make our wines with our last name in this place!" laughs Juanfa reflecting on the unexpected twists and turns of history that eventually led to the creation of Finca Suarez as a wine brand. The Suarez family story has finally come full circle and the youngest generation is benefiting from the foresight of their great-grandfather, Leopoldo Suarez, who originally planted in Altamira. "You can see why he chose Altamira: for its calcareous soils and freshness [from high altitude]."
Not only has Juanfa been able to reboot the family dream of making wines in Altamira but also using one of his great-grandfather's favourite varieties, Semillon, almost by coincidence. "I discovered my great-grandfather had written about the potential of Semillon in Altamira only after I had made the wine! So for me this wine is really important. It's like my family legacy."
In the family winery, Finca Suarez also produces Malbec, Cabernet Sauvignon, Chardonnay and a sparkling wine, although a large proportion of their grapes (90%) are still sold to other, usually much larger, producers.
The dynamic of being a small, family producer is what propelled Juanfa to become a founding member of the PiPA movement in Altamira. PiPA stands for Productores Independientes de Paraje Altamira (Independent Producers of Paraje Altamira) and is an association of small producers within the coveted Paraje Altamira GI who work together to have a bigger voice.
The 10 producers within PiPA only own around 14% of the Paraje Altamira GI vineyards collectively, but standing together as 14% gives them a much bigger voice and bargaining position than they had before. Previously Juanfa felt that the grape price was unjustly disproportionate to the retail price of wines made from them: "They [large wine producers] would buy the grapes for $0.30 cents of a dollar, and sell the bottle for $40 USD. It's a big difference and very unjust, and very much in favour of a monopoly. Which is why PiPA is very important because it is an association of small producers who want to remain inside the place [Altamira], which is why we get together."
And Paraje Altamira is one of those places that is worth fighting for. "Paraje Altamira is a landmark in Argentinean viticulture because it is the first GI that is delineated by terroir concepts, and not by political boundaries," Juanfa explained in our interview, going on to talk about how the calcareous soil and high altitude that make it a unique wine growing region in Mendoza. The other aspect of Paraje Altamira that stands out in the Uco Valley is the size of the producers there: "We have a long history, and there are a lot of small producers. In other places [in the Uco Valley] there are only big companies, and this is one of the differences of Altamira."
The cool, refreshing and linear wines of Finca Suarez reflect the geology and climate of the terroir, and Finca Suarez's family-scale wine estate and emotional connection to the land reflect the human terroir of this unique spot in the Uco Valley – Paraje Altamira.
Finca Suarez wine tasting notes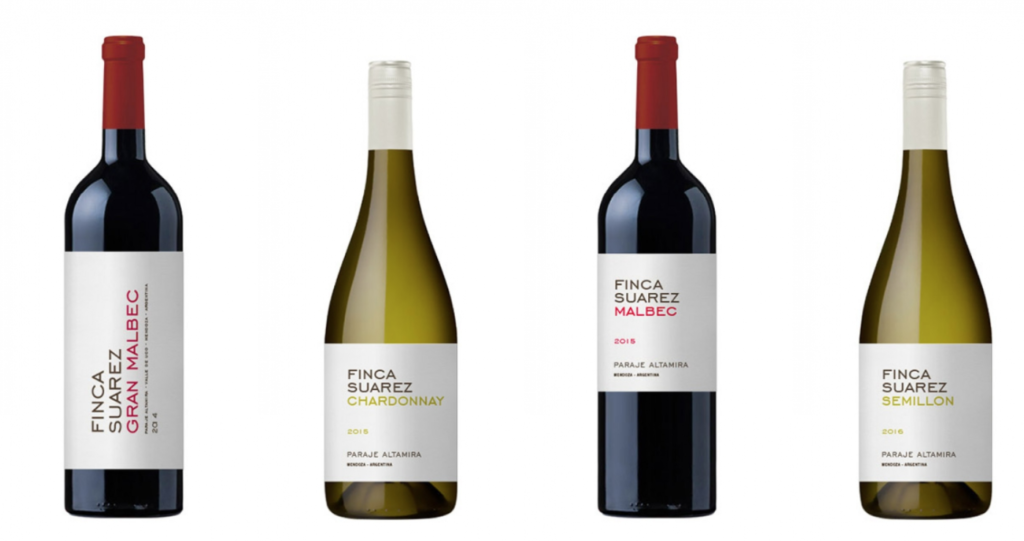 Finca Suarez Semillon 2017 $300
A really bright Semillon with lemon peel, green apple and tangerine notes meddled with fresh jasmine. This wine pops out of the glass and in the mouth, it has a citrusy acidity that cleans the palate and leaves a fresh finish. Juanfa's pairing recommendation is oysters…
Finca Suarez Chardonnay 2016 $300
From 25-year-old vines planted by his father, this Chardonnay has a wonderful complexity from the vine age and the Altamira terroir that give it a depth and density, combined with simplicity and transparency due to the minimal intervention winemaking style. A mineral note dominates the aromas of white blossom, white pear and white peach, and it is in the mouth that this wine takes over – textural, saline and with a thirst-quenching acidity. Bare Chardonnay.
Finca Suarez Cabernet Sauvignon 2017 $300
This Cabernet is a bit of an anomaly: light, spicy and very fresh, it doesn't feel like a New World Cab at all. "It is more Altamira than Cabernet," says Juanfa. The bright red fruit notes, herbal freshness and lean character speak of the poor soils, high altitude and cool nights of Altamira.
Finca Suarez Gran Malbec 2014 $550
There's no lack of expectation when it comes to Altamira Malbec, and the Gran Malbec of Finca Suarez lives up to its presupposition. It has finesse, it boasts heady violet notes and it is beautifully lean and sinewy for Malbec. The spice rolls off your tongue, there's a hint of savoury thyme and you are left with the impression of vibrant red fruit. This wine is modern, inviting and  a great expression of mountain Malbec.
Finca Suarez wines are available in Argentina (including Wine O'Clock where we filmed the live interview) and Gaucho Restaurants in England. You can find out more stockists by contacting Juanfa Suarez through Twitter or their website.
Read more about: