This Fast Facts feature on Tokaj is designed to give you the basics on the wine region and wines of Tokaj. Our Tokaj guide includes: the essentials of terroir (the soil types, climate, average temperatures, rainfall, longitude and latitude, and altitude); the main grape varieties and descriptors for Furmint and Hárslevelű; the viticultural methods; the winemaking techniques, wine styles and tasting notes for sweet and dry Tokaj; and the production area in size and number of producers.
Where is Tokaj anyway?
Tokaj-Hegyalja is a wine region in north-eastern Hungary, 240 kms north-east of Budapest. It is situated in the Zemplen Mountains at the confluence of the Tisza and Bodrog rivers.
The Essentials of Terroir: Tokaj guide
Climate & Landscape
The climate is continental with long, sunny summers. The hills to the north protect the region from harsh, cold winds. The autumn is dry with early morning mists similar to those in Sauternes in France, created by the meeting of the two rivers, Tisza and Bodrog at Tokaj. These conditions encourage the development of noble rot (aka Botrytis cinerea), which makes the berries dry and shrivel, thus concentrating their flavours, aromas, sugar and acidity.
Temperatures
Temperatures can drop to -15°C in winter and reach 35°C in summer, in fact 40°C was recorded in some vineyards in 2015.
Rainfall
550mm
Soils
The region has a volcanic subsoil with varying types of soil, mainly clay, on top. Some clay soils are humus-rich, others are high in chalk or iron. In a few areas, the topsoil is loess, a fine alluvial silt which does not retain water and heats and cools more quickly than clay.
Longitude
21.25 E
Latitude
48.70 N
Altitude
150-300 metres, with the highest point being at 500 metres.
Viticulture Facts & Vineyard Management: Tokaj guide
Dense planting (up to 11,000 plants/ha).
Vine Training systems
Both cordon and Guyot training are common.
Pests and Diseases
Moths and birds are a problem.
Viticultural Challenges
To protect against frost, growers cover the vines with soil every winter
Grape Varieties: Tokaj guide
There are 6 permitted varieties in the region, all of them white.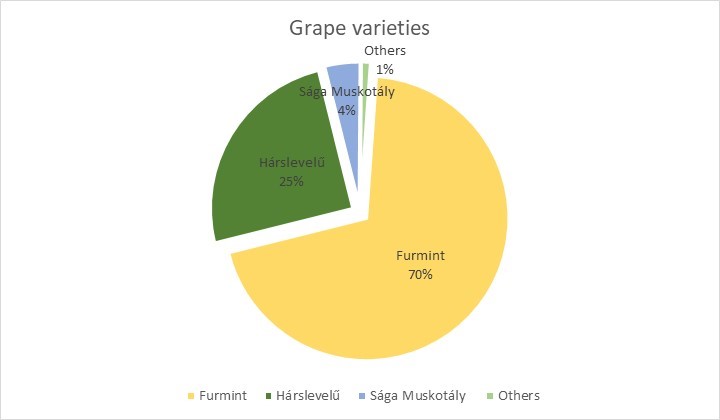 Furmint: Furmint buds early and ripens late but always has superb acidity. It has a neutral aroma and flavour profile but expresses terroir. It prefers well-drained soils and more is being planted. It has thin skins and tight, compact bunches, so noble rot can spread across the clusters within just a few days. This process not only concentrates the sugars and provides complex aromas and flavours but also intensifies the acidity, ensuring that sweet wines are not cloying.
Hárslevelű: This grape variety means "linden leaf" because of its aroma. It has thicker skins and looser bunches than Furmint and so is less susceptible to botrytis (noble rot). However it is fragrant and brings aromas and substance to Furmint's structure and in Aszú wines it adds enticing aromas and richness to the palate. Dry Hárslevelű needs to be picked at the right time. If picked too late, it has a strong floral aroma, particularly of linden leafs. If picked earlier, it expresses terroir.
Sága Muskotály (aka Muscat Blanc à Petits Grains, Muscat Lunel or Yellow Muscat)– about 5% of the vines planted. Dry and off-dry wines as well as being used in Aszú and late harvest.
Kabar (cross between Hárslevelü and Bouvier). Produces sugar-rich grapes that attract botrytis despite thick skins. Sometime vinified as a fragrant, richly fruity off-dry white.
Kövérszőlő. Can add lusciousness to sweet wines.
Zéta, a cross between Bouvier and Furmint.
Wine Varieties & Winemaking Styles: Tokaj guide
Dry wines
Furmint is now being made into dry wines, sometimes made in stainless steel and sometimes in oak.  Typical notes include quince, pear, lemon, green apple, limes and nuts. While blends are still common, some single vineyard Furmints are being made, which express terroir. If the grapes were grown in loess soil, the wine is fruitier and more floral, whereas those from volcanic soil make wines that are more steely and lean.
Dry wines are also being made with Hárslevelű, either alone or blended with Furmint.
Sparkling wines
Mostly made from Furmint using the traditional method of in-bottle fermentation.
Sweet wines
Late Harvest
A fresh, fruit-forward style, often made with Furmint, and which can vary in sweetness.
Aszú
Tokaji Aszú is a sweet wine with a high concentration of residual sugar that is made from hand-selected shriveled grapes affected by noble rot. Furmint usually provides the backbone for Aszú wines, Hárslevelű contributes luscious fruit aromas and flavours and any of the other varieties grown in Tokaj may also be added. The grapes are crushed to make a dough or paste, which is macerated in wine from the same year's harvest. Fermentation takes place in used 136-litre Gönci barrels made from Hungarian oak in cool cellars with natural yeasts. Because of the cool temperatures and very high sugar levels, the fermentation can take months or even years. Aszú wines must have a minimum of 18 months' barrel ageing.
The richness of the wine is denoted by the number of puttonyos. This is a container comprising 20-25kg of aszú berries. The more puttonyos that are added to the base wine, the sweeter, richer (and more expensive) the Aszú wine. There are now only two permitted categories of Aszú:
5 puttonyos, which has a minimum of 120 grams of residual sugar per litre.
6 puttonyos Aszú has a minimum of 150 g/l of residual sugar.
Eszencia
These wines are made with 100% botrytised Aszú berries, hand-selected one-by-one. The grapes are left in a special container with a false bottom and slowly the juice oozes out of them over a period of weeks. This juice is put into glass demijohns and left for 5 or 6 years to ferment. The sugar level is so exceptionally high that the yeasts struggle and the final wine reaches some 2% to 4% ABV. The amount of resulting wine is extremely low, making this among the most expensive wines in the world.
Traditional Wine Pairing: Tokaj guide
The Sweet Tokaji wines go well with foie gras, aged Gouda cheese, chocolate or fruit based desserts. Some restaurants serve Eszencia in a ceramic spoon as a dessert in its own right – one spoonful of this lusciously sweet drink is enough for most people!
Production Area
5,800 hectares.
Number of Producers
Around 200. The biggest producer is state-owned company Grand Tokaj, which accounts for 30% of the region's wine production.
Main Regions
8 wine communities surrounding the towns of Mád and Tokaj.
Interesting Facts
Each vine provides just enough grape must to make just one glass of Aszú wine.
Useful resources and further Tokaj guides:
Smyth, R., Hungarian Wine; A Tasting Trip to the New Old World. 2015
Howkins, B., Tokaji; A Classic – Lost & Found
Confrérie de Tokaj (Featured image from this source)