Barolo and Barbaresco are two of the most famous wine regions in not only Italy, but in the wine world. But what is the difference between Barolo and Barbaresco? Here's our fast facts and terroir essentials to the wine regions and wines from this famous part of Italy's Piedmont. Scroll down below for soil types, climate, weather, grape varieties and winemaking production methods.
Where exactly are Barolo and Barbaresco?
In the Langhe, a sub-region of Piedmont in Italy.
The Essentials of Terroir
Climate & Landscape
The climate here is continental with hot summers and cold winters. The Langhe is sandwiched between the Alps and the Apennines. The Apennines give the area shelter from storms and cold air from the sea. The Mediterranean air moderates the cold air coming from the Alps.
This is a very hilly area with many microclimates depending on the slope and exposure.
What's the difference in climate between Barolo and Barbare
Barbaresco has lower-lying vineyards and is closer to the river Tanato, which moderates its temperatures, making this a milder area.  As a result, the grapes ripen a little earlier. River breezes bring ventilation in the summer while autumn mists are very favourable to Nebbiolo.
Temperatures
The average annual temperature in Barbaresco is 13.0 °C, in Barolo it is 12.6 °C.
Rainfall
The average annual rainfall is 715 mm.
Soils: Barolo and Barbaresco
The Langhe hills are ridges formed by tilted sedimentary rock that was pushed up from the seabed some 5 million years ago. Subsequent water erosion on the steep hillsides means that different areas have very different soil structures. Some of the best Barolo comes from areas with marl (clay and carbonate sediment) and sandstone. Some areas have more sand, which makes them freer-draining. Calcium carbonate (the principal component of limestone) is known to give structure to wine.
Longitude
7.94° E
Latitude
44.60° N
Altitude
Vineyards can be up to 450 metres above sea level.
Viticulture Facts & Vineyard Management
The steep slopes in this area mean that much of the work, including harvesting, is done manually. Many viticulturists use sustainable or organic practices.
Irrigation
Vines are dry-farmed but a law was recently passed in Italy to permit irrigation of vines throughout the country in emergency situations.
Vine Training systems
Nebbiolo is trained in a high canopy – typically 2 to 2.5 metres above the ground to help control its vigour. It is trained in the guyot method, with a short cane for next year's growth and an ultra-long fruiting cane. The reason the fruiting cane is so long is that the space between the buds on each cane (internodes) is 15-20 cm, much longer than that on other vines and, what's worse, the first three or four buds can be sterile, so growers tend to leave 8-10 buds on the cane to be sure of a good crop.  That makes it up to 2 metres long!
Pests and Diseases
Nebbiolo has compact clusters, which makes it vulnerable to fungal problems, especially peronospora and oidium (powdery mildew) and botrytis.
Flavescence dorée is now causing problems.
Viticultural Challenges
Nebbiolo is among the world's most demanding grape varieties. It has a very long growing cycle, being the first variety to bud in Piedmont and the last to ripen. To ripen fully, it needs to be in the right location, which means above the frost pockets, but not too high that the grapes won't ripen – 250 to 450 metres above sea level has traditionally been seen as ideal. Vineyards have traditionally faced to the south, south-east or south-west to maximize solar exposure. With climate change, some growers are getting good results on slopes that get a little less sun.
Vigour is a real problem, and growers use a range of techniques to control it, including dense planting (4,000-5,000 plants/ha), choosing lower vigour rootstocks, interplanting other crops between the rows of vines, trimming shoots, green harvesting (removing clusters) and managing the canopy.
Grape Varieties
Nebbiolo
This is where Nebbiolo reigns supreme. In fact, of the 5,992 hectares of Nebbiolo planted in the world, 4,477 ha are in Piedmont and 2,600 of these are in the Barolo and Barbaresco areas.
Other grapes
Barbera, Dolcetto, Freisa, but many of these vines are being pulled up across the region to make way for yet more Nebbiolo.
Barbera makes fruity reds for early drinking.
Dolcetto can be made into both fresh, light wines or fuller-bodied, well-structured ones with some ageing capacity.
Wine Varieties & Winemaking Styles
In the Langhe, Nebbiolo makes a long-lived, complex wine, which is light in colour. It has intense aromatics, starting with wild cherries and rose petals when youthful and evolving into forest floor, leather, tar and balsamic notes with age.
Barbaresco is slightly lighter and earlier-maturing than Barolo, and shares similar expressions on the nose and mouth.
There are three main strands in winemaking:
Traditionalist wines. Until the mid-1970s, all the wines in the Langhe were made by fermenting the grapes slowly with their native yeasts, followed by a long maceration period. Winemakers would blend lots from different vineyards and age the wines in very old, very large barrels called botti, often made from Slavonian Oak. Wines made this way still exist. They are complex and concentrated and need longer ageing.
Modernist wines. In the 1970s, a group of young winemakers started the "Barolo Wars", causing outrage in this traditional area by bringing different techniques from France and Napa, including bunch-thinning, rotary fermenters and ageing in new barriques (225-l French oak barrels). They also brought in the concept of single vineyard wines. These wines are highly extracted, fruitier, with softer tannins and their aromas and flavours are heavily influenced by the oak. They are ready for drinking earlier.
The newest trend – wines in the middle ground. In the last decade or so, winemakers have been taking aspects from both styles, so a traditional fermentation might be followed by barrique ageing and then ageing in the large botti. Single vineyard wines have also become much more common.
The different ageing periods for Barolo and Barbaresco
The rules now state that Barolo must be allowed to age for at least three years, one and a half of which has to be in oak barrels. If the ageing is prolonged for five years, the wine gains the title of 'Reserve'.
Barbaresco must be left to age at least two years in oak – after four years the title 'Reserve' can be applied.
Traditional Wine Pairing
Red meat (game, steak, braised beef), risotto, mild cheese.
Annual Production
Barolo produced 13.9 million bottles in 2013.
Barbaresco produced 4.68 million bottles in the same year.
Main Regions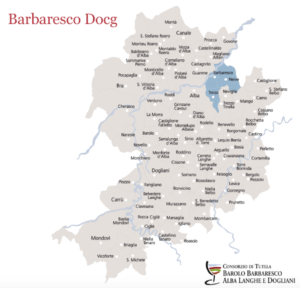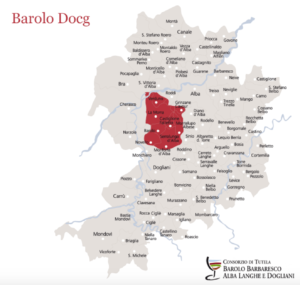 Barolo wine is made in eleven village territories, all situated on the Langhe hills: Barolo, La Morra, Monforte, Serralunga d'Alba, Castiglio Falletto, Novello, Grinzane Cavour, Verduno, Diano d'Alba, Cherasco and Roddi.
The area of production includes the entire territory of the villages of Barbaresco, Treiso and Neive, plus part of the territory of the Alba municipality.
Interesting Facts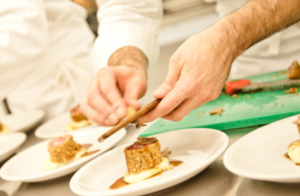 Alba is home to the Alba White Truffle World Market and Show every October to November. People converge from around the world to buy Piedmont truffles and there are talks on how to choose truffles. More information here.
Useful Resources
O'Keefe, K., Barolo and Barbaresco, University of California Press, 2014.
Consorzio di tutela Barolo, Barbaresco, Alba, Langhe e Dogliani (Featured image and maps from this source)