Mexico's wine country, Valle de Guadalupe in Baja California, boasts some serious top nosh. From casual food trucks to award-winning restaurants, your stomach is in for a treat. It is unlikely you will eat anywhere bad, but here are some really good (tried and taste-tested) restaurants in the region that you shouldn't miss. Welcome to our 80 Harvests guide on where to eat in Baja California and the best Guadalupe restaurants and food trucks – buen provecho!
Price Guide:
$ = <US$10 or less for main course
$$ = US$10-25 for main course
$$$ = >US$25+ for main course
Where to eat Baja California: Guadalupe Restaurants & Fine Dining
Restaurante Laja

As one of the original top Guadalupe restaurants, Laja is still on top of its game. Offering a daily changing tasting menu of farm to table ingredients served up with a modern Mexican twist. You can expect dishes like homemade ravioli, shellfish velouté and salad from the garden from the wholesome and delicious four or eight-course menu. Chef and owner Jair Telléz is also one of the brothers behind Bichi natural wine in Tecate.
www.lajamexico.com Carretera Tecate-Ensenada, km 83. $$$
–
Corazón de Tierra

Fine dining in an intimate setting, chef Diego Hernández Baquedano is one of the superstars of Guadalupe and his cuisine is creative, colourful and 100% organic and local. The tasting menu is the chef's creation each day and offers an array of colourful and delicious creations such as tuna tostaditas, tamales with mole and roast beet meringue. There's a range of wines on offer including the passion-project of the owners, Vena Cava.
www.corazondetierra.com Rancho San Marcos S/N, El Porvenir $$$
–
Finca Altozano

An outdoor grill restaurant, the proposal is simple but the taste is on another level. There's a mix of Mexican grill and fresh Baja California dishes like Ahi Tuna tostadas, chilled oysters and heirloom tomato salad with a beautiful setting overlooking the valley. There's no rush here and you can order wine and food a la carte at your own speed. The tasty waft of grilled meat and seafood from the BBQ will no doubt tempt you into ordering another bottle and another dish.
www.fincaltozano.com Carretera Tecate – Ensenada Km 83 $$
–
Deckmans en el Mogor

Step into this secret garden tucked behind Mogor winery and you'll find a foodie's paradise. US chef Drew Deckman's Guadalupe outpost serves up a small but select menu of local ingredients with international flavour. The smoked tortilla chips with fresh chile start you off, before an array of delicious dishes including local roast quail and slow cooked rib eye. The outdoor grill is quite a spectacle, if you can draw your eyes away from the stunning sunset over the valley. 
www.deckmans.com Carretera Ensenada-Tecate km. 85.5 (Wed-Mon) $$
–
La Cocina de Doña Esthela

This is the place to be on a Saturday and Sunday morning for brunch. Expect to wait in line as everyone and their grandma tries to get a spot at Doña Esthela's table. The generous portions of traditional Mexican cuisine like Machaca and Borrego are well worth the wait. This restaurant isn't the same fine dining as other Guadalupe restaurants, but it was easily one of the best meals I had in Baja California. We had to go twice and would have gone three times if we could.
La Cocina de Doña Esthela Facebook Ranchos San Marcos, El Porvenir $
–
Conchas de Piedra

If oysters and bubbly are your thang, this is the place for you. With Hugo d'Acosta's delicious sparkling wines and fresh oysters delivered from the coast every day – Concha de Piedra is heavenly. The other dishes like mussel ceviche and clams on the BBQ are small masterpieces of flavour. This lunch bar is another culinary creation of Drew Deckman.
Conchas de Piedra Facebook (Thurs-Sun, 11-4) Carretera Ensenada-Tecate km. 93.5 at Casa de Piedra $$
–
Where to eat Baja California: Food Trucks & Roadside Dining
There are many Guadalupe restaurants to discover but food trucks are also on the rise in Mexican wine country. Here's a pick of our favourite foodie pit stops on the road…
–
–
Adobe Food Truck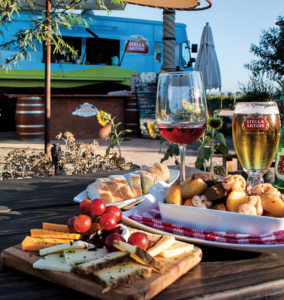 Adobe boasts two sit-down restaurants too, but the food truck is one of the most popular in Guadalupe for its Mediterranean-style tapas including mushrooms al ajillo and croquetas de jamon serrano.
Food Truck Adobe Facebook (Thurs-Mon) Parcela A-1 s/n, Rusa de Guadalupe $
–
Troika (Vena Cava)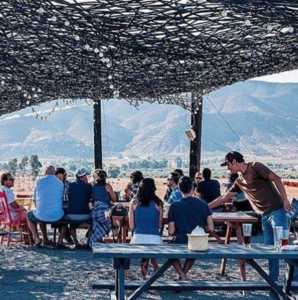 Located in front of the upturned boat, which has been creatively repurposed as boutique winery Vena Cava, is Troika – a pop-up bar and food truck. Tacos, ceviche and burgers pair nicely with the DJ set, cocktails, brews and vino.
Troika Facebook Rancho San Marcos Toros Pintos $
–
Taqueria La Principal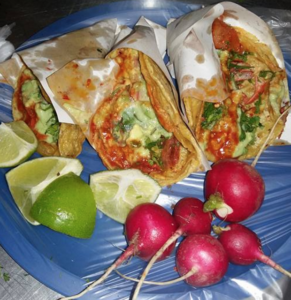 It is not a food truck, but this is a pit-stop restaurant with seriously good tacos. If you are looking for a cheap Mexican thrill, La Principal is ideal – and it is open till late.
Taqueria La Principal Facebook Main Avenue, Guadalupe village $
–
–
Do you have any other favourite Guadalupe restaurants or food trucks? Leave your recommendations and comments below!