The Okanagan valley should be on the travel bucketlist for any wine lover. Its natural beauty, excellent wines and welcoming local vibe make it a perfect place to tour around for a few days. We asked local wine writer, and author of Winetripping: Your guide to the Best Wines of British Columbia, Rachel von Sturmer to give us her guide to visiting Okanagan valley wineries and some touring tips from the road!

Okanagan valley is on the verge of something very special, with a dynamic energy that I think you're going to really enjoy. Every winery is doing something unique and having fun doing it, and the industry is growing fast. There are now over 273 wineries in British Columbia, most of them in Okanagan valley and neighbouring Similkameen valley, with 9,800 acres of vines and over 75 different grape varietals.
Quality is high and continues to make gains every year. In particular, pay attention to these grape varietals which are becoming BC stars: Syrah, Cabernet Franc, Pinot Noir, Chardonnay, Gewürztraminer, and Riesling. The hallmarks of an Okanagan wine are the singing acidity and fruit forward style, although you will find producers of every stripe here. Icewine is also made in BC, harvested in winter when the temperatures dip to a frosty -8°C.
The hottest sub-region of the Okanagan is Osoyoos, which sits just north of the US border. The area enjoys desert heat, and pool weather arrives in April. Prepare to slow down to allow rattlesnakes to cross the road, and taste some of the ripest reds in the valley. Nk'Mip, Mooncurser, and La Stella are good places to start your tour here.

Oliver too is a wine mecca in southern Okanagan. There are enough big names here, plus smaller niche producers, to keep you exploring for days. The Golden Mile area on the west side of the valley, is our first official Sub-Geographical Indication (GI); those hills, which get full exposure to morning sun and allow frosty air to sink into the valley below, used to house gold mines. To the east side of the valley is the famed Black Sage Bench area (it'll likely be our next sub-GI). With the windows down, the first thing you'll notice here is the sweet scent of dried sage. The rocks and deep sand in this area, combined with long sunny days, make it a fantastic growing zone. Gehringer, Culmina, and Fairview Cellars to the west, and Burrowing Owl, River Stone, and Bartier Brothers in the east, are all fantastic.
If Oliver's the heart of wine country, then Skaha may be the soul: whether getting a glimpse of Vaseux Lake through the skyscraper Ponderosa pines, taking a moment to admire the beauty of McIntyre Bluff and Peach Cliff, or enjoying an ice cream from Tickleberry's, you'll feel it. If travelling between Okanagan Falls and Penticton, take the eastern Skaha Lake route (Lakeside Rd) for a very scenic drive along the edge of the water. Meyer, Synchromesh, and Painted Rock are well worth a visit.
Penticton's a lively town, nicely situated between Skaha and Okanagan Lakes and equidistant between Osoyoos and Kelowna. Plenty of restaurants and hotels make it a great home base for exploring the valley from. Scenic Naramata Bench is just minutes away, densely packed with wineries, ideal for a one day wine trip. It's also increasingly popular with cyclists doing the Kettle Valley trail who finish their day by stopping in for refreshments. If you're in Penticton on a Saturday, make sure to check out the farmer's market, it's really something special, with all kinds of baked goods, fresh garden produce, and even local wineries in attendance. Poplar Grove, JoieFarm, and Deep Roots are particularly good.
Summerland has several niche producers scattered in the rolling hills, making for a full day of wine touring, notably Okanagan Crush Pad. Head up into the hills which are chock-a-block with hidden gem wineries, or closer to the lake to find picture perfect tasting spots like Evolve. This is a hot spot for organic and small growers. Nearby Peachland has a pretty lakeside boardwalk with cafés and restaurants, the perfect spot to grab breakfast or lunch.
Kelowna is the largest city in the Okanagan, divided into two areas: West Kelowna (also known as Westbank), and across the bridge, Kelowna (or East Kelowna). Wineries here include some of the most iconic in the valley, such as Mission Hill and Quail's Gate in the West, along with Tantalus, CedarCreek, and Summerhill in the East.
Furthest north are Lake Country and Vernon, a beautiful area with plenty of room for contemplation, and much slower pace than nearby Kelowna. You're never far from a water view here. The nearby Sparkling Hill Resort is stunning, and makes an ideal getaway for spa-lovers, and a convenient drive to 50th Parallel Winery.
If you want to get off the beaten track, head west to the Similkameen for sweeping views and rustic charm in a verdant river valley filled with organic vineyards and orchards, roadside fruit stands, and a relaxed country hospitality. The 'Sunny Similkameen' is known as the Organic Farming Capital of Canada, and lies in the valley directly west of the Okanagan. It's an open secret that some of the best grapes in BC are grown here. Extra hours of sunshine make it possible to ripen even big reds like Petit Verdot.
The tasting rooms are quieter and less rushed, the easygoing pace giving you a chance to soak it all in. The prettiest and most scenic route for the short drive between the two towns of Keremeos and Cawston is Upper Bench/Barcello Road, which will give you a view of the local farms and wineries. Clos du Soleil, Little Farm, and Orofino are key stops in this area.
Touring Tips
Unofficially, the wine touring season opens as of the May long weekend. Some of the best times for touring are just ahead of this in early May, before the crowds arrive. Early October is another great time to visit, as you'll see the vines turn vibrant golds and reds, and avoid the busier July-September months. Although a chill can descend, you'll get more space to rest your elbows at the tasting bars.
The southern part of the valleys is a desert, and it gets surprisingly hot. Having a cooler in your vehicle is a good idea to make sure any wine you're transporting stays protected.
If you'll be in a group of more than 5 people, it's advisable to book tasting appointments ahead of time to avoid disappointment. Many of the wineries are small scale producers with limited room in their tasting area. In high season, touring on weekdays is preferable to avoid the crowds, and restaurant reservations are essential.
There are plenty of tour companies that can ferry you on a custom itinerary. Two to seek out are Experience Wine Tours, who have their fingers on the pulse of the best wineries to visit, and Nixdorf Classic Cars who will chauffeur you to the producers of your choice in a fully restored classic convertible.
Written by Rachel von Sturmer for 80 Harvests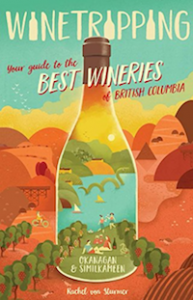 You can read Rachel's full guide to Okanagan and Similkameen wineries in her book: Winetripping: Your guide to the Best Wines of British Columbia available to buy on Amazon.
Follow her wine stream on Instagram and Twitter.
More content on Okanagan:
More on Okanagan coming soon on 80 Harvests…
Video interviews with winemakers
An infographic on Okanagan's terroir essentials
Our guide to the wine of Okanagan