Bertil Levin Tøttenborg is the Head Sommelier for Bolivia's top restaurant, GUSTU in La Paz. He is a specialist in Singani and manages the biggest list of Bolivian wines in the world. We ask him what floats his boat when it comes to Bolivian wine, and what cocktails you need to try while visiting.
Amanda: How would you describe Bolivian wine to a newbie?
Bertil: It is an undiscovered land still, and there is a potential here. There is an acidity in every wine you find in the country, that makes it more elegant than wines you find in the rest of South America. Bolivian wine is a niche, and it is something different – and I think the acidity has something to do with that.
What wines will you find here?
Red wines are the biggest, around 70% of the production is based on the red wine production. Cabernet Sauvignon is the most familiar grape in the country too. But where Cabernet can sometimes be more masculine, we have more elegance and acidity here – it gets a lot softer over time. It's a different style.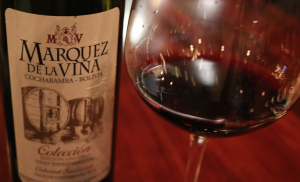 So how would you describe the style of Bolivian Cab?
The tannins are less aggressive, the acidity is higher, and the elegance is there. Many Bolivian Cabernet Sauvignons for me are a lot more feminine than you could find in Bordeaux or the New World. It is much more easy to drink.
So this characteristic acidity comes from the altitude I assume?
Indeed, the different temperature between day and night is big. We get a little more aggressive sun in altitude of course, which does something to the ripeness of the fruit and sugar, but the cold nights give it the acidity. I've said acidity so many times now! But I believe that's a key word for Bolivia.
What are the other varieties that people should look out for in Bolivia?
Merlot and Malbec, in the same direction as Cabernet. And for me, the most planted grape (which is definitely the most important wine here) is Muscat de Alejandria which is both used for dry wine and sweet wines, and of course being the 100% based of the national liquor Singani.
Are there any native varieties that people might find in Bolivia?
Yes, there is a red grape called 'misionaro', and Moscatel de Alejandra is considered native here. And then there's a whole new grape I just discovered called 'bischuqueña' – it's a red wine grape that's a lot more fresh and acidic than most of the other masculine grapes Bolivia's using in general. It's native from the Cinti Valley. At the moment it is being analyzed.
Do you have any recommended pairings for Bolivian dishes and Bolivian wines?
For much of the traditional Bolivian dishes they do need tannins, there is a big focus on meat dishes – so you need wines with tannin. The reds works well.
What's exciting for you in the Bolivian drinks scene now?
Singani is a spirit that doesn't exist anywhere else!
You have 45 singanis on your bar list, tell me about Singani and how it tastes.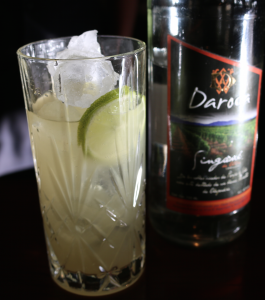 It's very difficult to find two singanis that taste alike! It's a distillate, like grappa, but even though the alcohol is around 40 degrees, it doesn't burn you. It is much easier to drink. And it is very easy to work with for making drinks – it is somewhere between gin and vodka. Like gin, it has berries and flowers, or it can be like vodka and be more neutral.
What's your favourite singani cocktail?
A 'chuflay' is always very interesting! It is like our gin and tonic, it is singani with a sparkling soda. In GUSTU we make it with fresh ginger syrup.
That sounds like a good prescription for the altitude!
It is!
Want to know more about Bolivian cuisine? Check out our interview with GUSTU chef Kamilla Seidler
Want to know more about Bolivian wine? Take a look at our guide to its history & wines!