Altosama Brut (Kuhlmann Bodega)
The only winery in Bolivia to focus on bubbly, Kuhlmann winemaker (and part of the family) Franz worked at Freixenet's sparkling wine houses in Napa and Mendoza to learn the art of sparkling and brought his knowledge back to Bolivia to make a range of sparkling here. The natural acidity of the region lends itself to quality bubbly and this Brut is a great example of the potential in the region. With lots of fresh tropical fruit and floral aromas, it has a flirty nose and a crisp mouth with a complexity coming from the blend of five grapes.

Muscat (Bodega Sausini)
Muscat of Alexandria is the queen of grapes in Bolivia. It is usually used for Singani production (Sausini also make an excellent Singani); however a handful of producers are using the high quality Muscat for still wine and this one from Sausini is a shining example. A bright and exuberant nose with floral jasmine notes gives way to an aromatic mouth that has bright acidity and good length. This is an exciting new direction for Bolivian white wines.
Cepas de Altura (Syrah, Bodega La Concepcion)

Syrah is one of the best adapted red varieties in Bolivia, and this is one of the top lines from La Concepcion winery. It may come as a surprise but their use of oak goes in reverse order – the higher up the line you go, the less oak they use. So this Syrah is only in barrels for four months, and as a result it has preserved a very fruit-forward character filled with explosive notes of dark forest fruit and blueberries. In the mouth it is also filled with fruit and a peppery spine of tannin with a fresh finish elevated by the high acidity.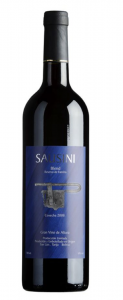 Blend (Cabernet Sauvignon-Merlot, Bodega Sausini)
Combining Bodega Sausini's two most important varieties – Merlot and Cabernet Sauvignon – their blend is representative of their wines and also the region. A rich-coloured wine with plenty of roasted green chilli and peppery spice characteristic of the region, ripe blackcurrant and berry aromas and a vibrant mouth with lively acidity, round tannins and a long finish.

Singani Los Parrales (Reserva Aniversario, Kuhlmann)
Singani is the superstar spirit of Bolivia, coming from 100% Muscat of Alexandria at altitude. This is the top Singani from Kuhlmann winery and you'll find a wonderfully aromatic nose with light fruit aromas and hints of chamomile and a characteristically smooth finish.